"A lot of eyes are on us this time, especially since we have poor intel."
This article, Tom Clancy's Rainbow Six Siege: Operation Skull Rain, is a stub and may require expansion. Please help out by editing the page.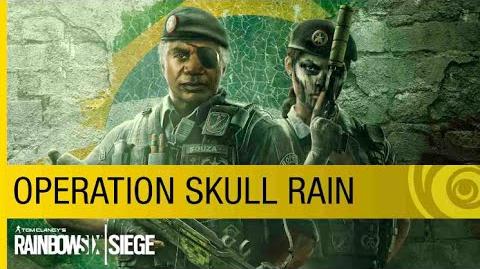 Operation Skull Rain is the third expansion released for Tom Clancy's Rainbow Six Siege. It added two new Operators from the Brazilian BOPE CTU and new map Favela.[1][2][3]
It was officially announced on July 25, 2016 and was released on August 2, 2016 for Season Pass holders. As with other expansions, all content released will be free for players but can be accessed one week earlier with ownership of the season pass.
The expansion was originally slated to be released on July 2016.
Features
BattlEye
Tactical Realism mode
Surrender system
New Loadout presentation/In-game HUD
Maps
Operators
Weapons
Attachments
Gallery
References
Ad blocker interference detected!
Wikia is a free-to-use site that makes money from advertising. We have a modified experience for viewers using ad blockers

Wikia is not accessible if you've made further modifications. Remove the custom ad blocker rule(s) and the page will load as expected.