"A lot of eyes are on us this time, especially since we have poor intel."
This article, OTs-14 Groza, is a stub and may require expansion. Please help out by editing the page.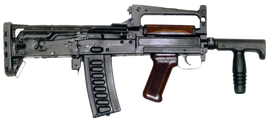 The OTs-14 Groza (ОЦ-14 "Гроза") is a Russian selective fire bullpup assault rifle chambered for the 7.62×39 round and the 9×39mm subsonic round. It was developed in the 1990s at the TsKIB SOO (Central Design and Research Bureau of Sporting and Hunting Arms) in Tula, Russia. The weapon is colloquially known as OC-14 or OTs-14 "Groza" ("Thunderstorm"). The OTs-14-4A "Groza-4" has one derivative, the TKB-0239 (ТКБ-0239), also known as OTs-14-1A "Groza-1", chambered for the 7.62×39mm round.
Tom Clancy's Rainbow Six 3: Raven Shield
Edit
The OTs-14 Groza is a weapon featured in Tom Clancy's Rainbow Six 3: Raven Shield. It is a modernized, "bull pup" version of the AKS-74U. Issued to internal security and special forces, the Groza it is a force to be reckoned with.
Ad blocker interference detected!
Wikia is a free-to-use site that makes money from advertising. We have a modified experience for viewers using ad blockers

Wikia is not accessible if you've made further modifications. Remove the custom ad blocker rule(s) and the page will load as expected.