"A lot of eyes are on us this time, especially since we have poor intel."
This article, Muzzle Brake, is a stub and may require expansion. Please help out by editing the page.
"Reduces the overall weapon kick of single shot firing."
— In-game description
The Muzzle Brake is a weapon attachment featured in Tom Clancy's Rainbow Six Siege. It greatly reduces the vertical recoil and does not change a weapons horizontal recoil similar to the Compensator and Flash Hider.
This attachment is best used for semi-automatic pistols and marksman rifles. It's also useful for assault rifles with high vertical recoil.
The Muzzle Brake will only reduce the recoil of the first shot by 40 percent, alongside the 10 percent for everything else. This means that the recoil is effectively halved on the first shot, but the recoil reduction is diminished on continued firing.
Weapon Compatibility
Video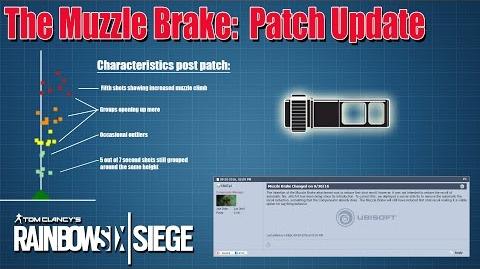 Patch Changes
Ad blocker interference detected!
Wikia is a free-to-use site that makes money from advertising. We have a modified experience for viewers using ad blockers

Wikia is not accessible if you've made further modifications. Remove the custom ad blocker rule(s) and the page will load as expected.