"A lot of eyes are on us this time, especially since we have poor intel."
This article, Level Newspaper, is a stub and may require expansion. Please help out by editing the page.
Newspaper is a feature in the first Tom Clancy's Rainbow Six that shows the Rainbow operations by the eyes of the reporters.
During the game campaign, some levels will display a news showing the operations results, when the level is successful completed.
Here are the news transcripts by level:
Cold Thunder
Edit
LONDON, ENGLAND (United News International) - British government forces ended a tense stand-off yesterday when they stormed the Belgian embassy in central London, killing all members of a neo-Nazi organization who had occupied the building since early Monday morning. According to police spokesman Nigel Fellows, all hostages were released safely, including Giles Doucet, the Belgian ambassador.
Members of the group "Free Europe" masqueraded as employees of a catering company to gain access to the compound. The attack was staged on the 8th anniversary of the founding of the European Union, and authorities have linked the group to the radical anti-Union underground. According to officer Fellows the police had hoped to bring the situation to a peaceful conclusion but were forced to take drastic action when it appeared that the hostages were in imminent danger.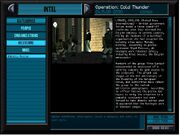 Ad blocker interference detected!
Wikia is a free-to-use site that makes money from advertising. We have a modified experience for viewers using ad blockers

Wikia is not accessible if you've made further modifications. Remove the custom ad blocker rule(s) and the page will load as expected.