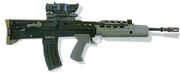 Vegas 2 Weapon Information
L85A2
Assault Rifles
DAMAGE
RANGE
ACCURACY
PENETRATION
MAGAZINE SIZE
25+1 W/extended mag 35+1

REQUIRES
1170 marksman points
TO UNLOCK THIS ITEM
The current L85A2 or SA80, is currently recognized as being reliable and very accurate, especially when using standard issue SUSAT telescope sights. The drawbacks of the L85A2 are somewhat unusual weight balance (which can be compensated with installation of HK-made 40mm underbarrel grenade launcher), right-side only extraction, problems with jamming and rearward placement of the fire mode selector. It is known as being one of the most accurate rifles in full auto. This rifle is common issue among UK infantry units and had it's fair share of issues early on (in the A1 model. This rifle is chambered in 5.56x45mm, the standard round for many assault rifles such as the M4A1 and SG-552. The rifle as it appears in Rainbow Six is hampered only by its small magazine size and long reload times.