"A lot of eyes are on us this time, especially since we have poor intel."
This article, Kanal, is a stub and may require expansion. Please help out by editing the page.
"Taking place in the industrial area of Hamburg, Germany, 'Kanal' involves multiple buildings with strategic connecting points over canals. It features many interesting strategic possibilities created by the many bridges, buildings and related vantage points of its terrain."
— Ubisoft Description

Kanal is a map featured in Tom Clancy's Rainbow Six Siege.
3 Attacker spawning locations

Floating Dock
Sail Boats
Construction Site

3-4 Defender objective locations

Bomb

Server Room and Control Room
Kitchen and Projector Room
Coast Guard Office and Holding Room

Secure Area

Server Room
Maps Office
Coast Guard Office
Boat Supplies

Hostage

Control Rooms
Maps Office
Coast Guard Office
Boat Supplies

5 Trap doors
Map Layout
Edit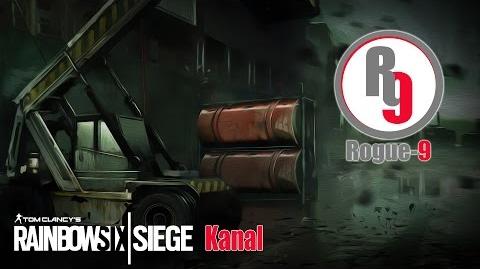 Ad blocker interference detected!
Wikia is a free-to-use site that makes money from advertising. We have a modified experience for viewers using ad blockers

Wikia is not accessible if you've made further modifications. Remove the custom ad blocker rule(s) and the page will load as expected.