Joint Task Force 2 (JTF2) is an elite special operations force of the Canadian Forces, primarily tasked with counter-terrorism operations. Activated in 1993, it is currently based at Dwyer Hill, near Ottawa, Ontario, and plans to move to a new facility to be built at CFB Trenton by 2019.
It is an available organization introduced in the Tom Clancy's Rainbow Six Siege: Operation Black Ice expansion.[1]
CTU History
Due to public concern over the RCMP SERT police officers being taught to use primarily lethal means, the Joint Task Force 2 (JTF2) was activated in 1992. The Government of Canada does not comment on JTF2 and much of the information regarding the unit is classified.
Operators
Attackers
Defenders
Weapons
Gallery
Stills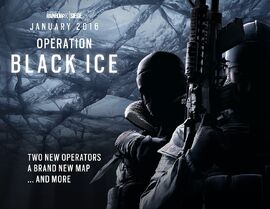 Videos
References
Ad blocker interference detected!
Wikia is a free-to-use site that makes money from advertising. We have a modified experience for viewers using ad blockers

Wikia is not accessible if you've made further modifications. Remove the custom ad blocker rule(s) and the page will load as expected.