"The GIGN was created in 1973, specializing in counter-terrorism and rescue missions. Having taken part in over 1000 operations since it was founded, the GIGN has only seen 9 fatalities."
— Siege In-game description
The National Gendarmerie Intervention Group, commonly abbreviated GIGN (French: Groupe d'Intervention de la Gendarmerie Nationale), is a special operations unit of the French Armed Forces. It is part of the National Gendarmerie and is trained to perform counter-terrorism and hostage rescue missions in France or anywhere else in the world.
The GIGN is an available organization in Tom Clancy's Rainbow Six Siege.
Operators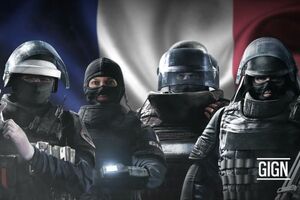 Weapons
Videos