"A lot of eyes are on us this time, especially since we have poor intel."
This article, GIGN, is a stub and may require expansion. Please help out by editing the page.
The National Gendarmerie Intervention Group, commonly abbreviated GIGN (French: Groupe d'Intervention de la Gendarmerie Nationale), is a special operations unit of the French Armed Forces. It is part of the National Gendarmerie and is trained to perform counter-terrorism and hostage rescue missions in France or anywhere else in the world.
The GIGN is an available organization in Tom Clancy's Rainbow Six Siege.
Tom Clancy's Rainbow Six Siege
CTU History
The GIGN was created in 1973, specializing in counter-terrorism and rescue missions. Having taken part in over 1000 operations since it was founded, the GIGN has only seen 9 fatalities.
Operators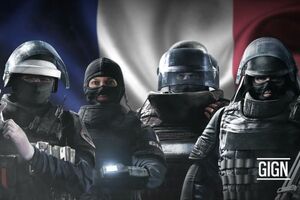 Attackers
Defenders
Weapons
Videos
Trivia
Ad blocker interference detected!
Wikia is a free-to-use site that makes money from advertising. We have a modified experience for viewers using ad blockers

Wikia is not accessible if you've made further modifications. Remove the custom ad blocker rule(s) and the page will load as expected.