"A lot of eyes are on us this time, especially since we have poor intel."
This article, FBI SWAT, is a stub and may require expansion. Please help out by editing the page.
FBI Special Weapons and Tactics Teams (SWAT) are specialized tactical teams of the Federal Bureau of Investigation (FBI). SWAT agents are specially trained to intervene in high-risk events like a hostage and barricade situations. The FBI maintains SWAT teams at each of its 56 field offices throughout the country varying in size up to about 42 members. In the event of a large-scale problem that local law enforcement does not have the resources to handle, FBI SWAT teams from the local field office, as well as outside the local region can be dispatched to aid the local authorities.[1]
The FBI SWAT is an available organization in Tom Clancy's Rainbow Six Siege.
Tom Clancy's Rainbow Six Siege
CTU History
Created in 1983, The FBI Enhanced Special Weapons and Tactics (SWAT) Teams are trained to intervene in high-risk situations. Their expertise includes hostage rescues, aircraft hijackings, tracking fugitives, stronghold and tubular assaults, and specialized sniper operations.
Operators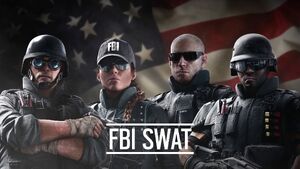 Attackers
Defenders
Weapons
Videos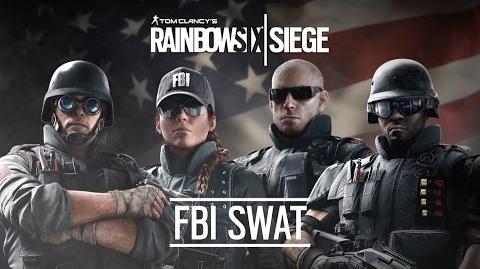 Trivia
References
Ad blocker interference detected!
Wikia is a free-to-use site that makes money from advertising. We have a modified experience for viewers using ad blockers

Wikia is not accessible if you've made further modifications. Remove the custom ad blocker rule(s) and the page will load as expected.