Blunt Scroll
Location
Mombasa, Kenya
Date
August 3, 2004
23:20 Hours
Objective
Rescue all hostages
Game
Rainbow Six Black Thorn
Next mission
Operation: Broken Sceptre
Previous mission
Operation: Golden Song
Operation Blunt Scroll is the seventh mission in Tom Clancy's Rainbow Six: Rogue Spear: Black Thorn.
Mission objective:
Terrorists have seized control of an airport outside of Mombasa, Kenya. After landing in a cargo plane the mercenaries stormed the terminal and took a group of students on holiday as hostages. Your mission is to rescue the students and escort them back to the extraction zone.
Briefing
John Clark - It seems we may have discovered who our Copycat is. A news helicopter surveying the operations in the Netherlands spotted someone in a nearby abandoned building observing the scene. We were able to identify him from stills taken from the news footage. His name is David Newcastle, and he's a former member of the top UK counter-terrorism unit. He cashiered following an incident in 1998 in which he tortured and killed captured terrorists, and interestingly enough, at one point he wanted to join Rainbow. Intel's looking at his dossier right now.
Newcastle must have figured out we were monitoring his communications and changed his system. That means we're in the dark again. We never saw this one coming. The mercenary team that he has taken control of the airport is extremely well armed. They have body armor, and they've got sentries placed at all access points to keep anyone from getting close.
Kevin Sweeney - David Newcastle was an assault specialist for the National Crime Squad when he was recruited by the SAS. He is a real professional and was one of the best soldiers in his unit. From the file we retrieved, he knew about Rainbow's existence and wanted badly to become a Rainbow team member. After a hostage rescue mission in Gibraltar resulted in the capture of three terrorists, Newcastle proceeded with their interrogation solo. Afterwards, two of the terrorists needed emergency hospital care for everything from broken bones to severe lacerations. The third was already dead due to blunt trauma to the head; an autopsy revealed multiple broken ribs, a collapsed lung and several suspicious-looking burns. A subsequent psychological exam on Newcastle revealed aggressive tendencies bordering on psychosis, and he was relieved of duty. Shortly thereafter we lost track of him, and didn't see him again until the Netherlands ops. He's had intense counter-terrorism training and is now using it against Rainbow.
It looks like Mombasa is supposed to echo Entebbe. We know that Newcastle studied that operation intensely in his SAS days, and it seems he wants to test Rainbow against what he thinks he's learned.
Mission orders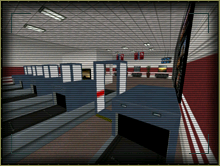 Teams will be inserted on both sides of the terminal. Clear those areas before going for the hostages. Once the area has been cleared, you must rescue the hostages being held in the metal detectors area and in the main terminal. Escort them back to the main entrance as quickly as possible.
Gallery
Enemies
Walkthrough
NEWSWIRE
MOMBASA, KENYA (United News International) - Heathrow Airport was the site of a joyful reunion today, as members of the student holiday tour taken hostage in Mombasa, Kenya were welcomed home today by their families and government officials. The students were held hostage for over 72 hours by terrorists at the airport where their plane had stopped to refuel. Their harrowing ordeal ended when a multi-national force comprised of UN Peacekeepers and Nigerian special forces units stormed the airport, killing the hostage-takers and rescuing the students. "It was a nightmare," said student Ashleigh Blodworth, 16, of Bognor Regis. "We all thought we were going to die, especially once we heard the shooting start. Thank goodness we were rescued."